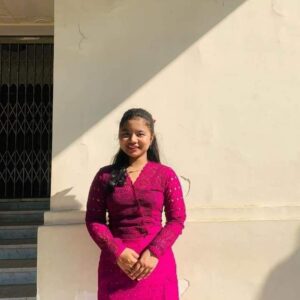 Pone Nyet Aung is a determined and versatile young woman pursuing a major in Philosophy, Politics, and Economics at Parami University. Alongside her studies, she actively engages in freelance teaching, translating, and content creation, with a passion for writing, social media, music, and teaching. 
At Parami University, Pone Nyet follows an interdisciplinary and student-centered approach. She excels in coursework covering subjects such as Statistics, Civic Engagement, Social Psychology, Philosophy, and Gender Studies, earning the prestigious Parami Undergraduate Studies Scholarship. 
Pone Nyet's work experience includes serving as an English Language Instructor at Grab Your Success Language Classes. In this role, she designs engaging online lessons, offers personalized instruction, and assesses student progress. Additionally, she works as a Freelance Editorial Assistant at True Learning Company, translating stories, creating content, and conducting market research. 
In addition to her academic and professional pursuits, Pone Nyet actively participates in leadership roles and various activities. She attended the Exploring Social Innovations Program in San Francisco, gaining valuable insights into social challenges and entrepreneurship. Pone Nyet excels in communication skills, including public speaking, leadership, and teamwork. 
With native proficiency in Myanmar and fluency in English, Pone Nyet possesses strong language skills. Her technical skills span project management, digital literacy, content writing, and copywriting. Driven by her dedication, diverse skill set, and passion for making a positive impact, Pone Nyet Aung is poised to excel in her chosen field and contribute meaningfully to society.