Hope is what keeps us motivated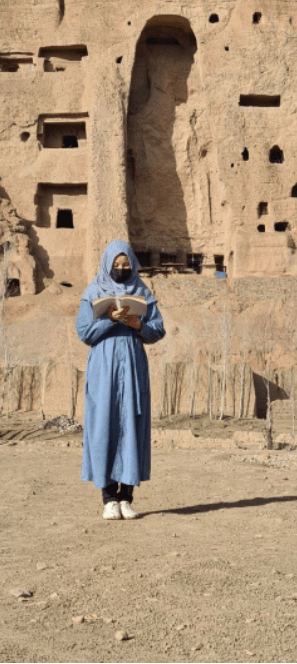 I was born on the year that Taliban destroyed the Buddha monument in Bamyan, Afghanistan  (2001) – province which I come from. Due to control of Taliban in Afghanistan at that time, my  parents fled to Pakistan as refugees accepting all the lives ups and downs of life in order to give  their children—whom they themselves had been denied of—a nice life and an education. I was  born there, as were my siblings too. In order to pay for the costs of the private school, the  educational facility, and living in Pakistan, my father worked relentlessly day and night. Living  as a refugee was not free of obstacles. We were always called "mohajer" [refugee] and "hazara or  Chinese" at school and other educational institutions my siblings and I attended because of the  way we appeared. Occasionally, the government would blame the Afghans for terrorist attacks,  which led Pakistanis to view us, the Afghans, as terrorists. 
My father used to watch the six o'clock news every night. I frequently sat next to him while  keeping an eye on events in Afghanistan. I felt terrible witnessing my people in suffering,  famine, conflict, instability, and flight. I was constantly considering ways to be of assistance to  them. I had a teacher who encouraged me to follow in her footsteps and become a teacher by  constantly thinking about this. Her wisdom and kindness served as an inspiration. There are  numerous ways to serve my people, I reasoned to myself, but I will choose to become a teacher  because widespread illiteracy is the root of many troubles. 
I had a ton of dolls, just like other girls. I set up a class for them after school every day and  shared the knowledge I had learnt there. When I was nine or ten years old in 2010, my family  and I had a summer vacation to Bamyan, Afghanistan. On one of those days, I was out for a  stroll in the neighborhood when I noticed some girls living there who were about my age. In the  nearby river, where I saw the girls washing dishes, I enquired about their work. 'We do the  dishes, clean the house, and take care of our younger siblings', they retorted. I was astounded 
that a 10-year-old handled the smaller kids' cleaning and care. Next, I inquired, "Where is your  school?" 'There is no school for girls', they retorted. 'For boys, there is only one, and it is quite  distant. Our father orders us to complete the household tasks, so we are not permitted to attend  
school. Moreover, no use comes from our education.' I was saddened and angered when I heard  this. They have a right to an education! I then inquired as to the girls' desire for me to instruct  them. They didn't hesitate to concur. The girls used to visit my home occasionally, but I believe  someone alerted their father and they stopped coming. 
My parents made the decision to relocate permanently to Bamyan, Afghanistan, in 2015. My  siblings and I enrolled in a government school, which was very dissimilar from schools in  Pakistan. Despite the fact that I am Afghan, I had many cultural shocks. There were a ton of stuff  that I could not comprehend. I looked for a teaching opportunity because I had not forgotten my  passion and was searching for an opportunity to teach and I did! Since I had learned English  while I was in Pakistan, I taught it to others. The majority of my students were female and either  younger or older than myself. I also instructed my students. I spent six years working as a  teacher at various NGOs. Years that were brimming with happiness, enthusiasm, memories, love,  and priceless experiences. My office was in front of Shamama, the female Buddha, when I was  working as an English language instructor for one of the NGOs in Bamyan, Afghanistan. Every  day when I made my way to my workplace, I gazed at it. Shamama is still standing tall, self assured, and powerful even after 20 years of distraction, I reminded myself one day as I was  walking and gazing at her. On that particular day, I told myself to confront every problem with  the same strength and assurance as Shamama. 
In the previous 20 years, women had successfully reclaimed their place in the patriarchal society  of Afghanistan. The rights they had fought for had been won. They went on to become 
educators, physicians, engineers, artists, and leaders. They had gained independence and altered  how men thought about women. M ost, if not all, men. But in a single day, everything was turned  into ashes. All of the accomplishments, credentials, images, concepts, roles, and rights were set  on fire. Women who had spent twenty years overcoming the difficulties were sent back. They  had created a nation that was developing daily. They had created a nation so that their girls in  particular would not have to deal with the unfairness and violence they had earlier experienced. 
Twenty years ago, women were not what they are now. They are unable to work as they once  could to educate, heal, or construct. They are unable to attend a school, university, or even  another education institution to further their education. They are even unable to exercise in the  gym or take a jog in the park. They are imprisoned inside the house's four walls. However, it  hasn't deterred them. They have left their homes, demonstrated, and spoken out in defense of  their rights. Even after being shot at, kidnapped, and intimidated by the Taliban, the ladies  persisted and were more resilient than before. They rose and declared that they are not giving up  in the face of the Taliban. They will keep going until they achieve their goal of equality. 
I had a broken heart when I began my undergraduate degree. With the fall of my nation, a heart  that had endured and accepted the hardships of being a refugee as well as other barriers in life,  broke. I entered this new phase of my life with no expectation of ever seeing my family again,  tasting my mother's cooking, conversing with my father about various subjects, playing with my  siblings, or having the opportunity to once more take in the fresh, cool scent of my own land. To  get my life in order, become an engaged student, and do well in my studies, I worked really hard  and attended numerous therapy sessions. But I was unable. I couldn't stop worrying for my  people, especially my students, and my country.
One day, I recalled what I'd told myself a few years before while I gazed at Shamama in  Afghanistan. No matter what obstacle I encounter, I will be as courageous and self-assured as  Shamama. As a result, I decided to stop lamenting and feeling depressed and instead take action  to prevent further suffering for my people. I requested funding from ACEP (Afghan Civic  Engagement Project) for a project to help 40 females learn English and computer skills.  Thankfully, I was given the funds. My project was supposed to begin on-site in January 2023,  but that didn't happen because of the Taliban's new regulations prohibiting girls from visiting  educational facilities. I carried out my project online, however because to internet costs, I had to  cut the number from 40 to 20. These 20 girls are now studying English online. 
The difficulties Afghan women have experienced over the years have not stopped them from  moving forward. They stood with greater goals and ambitions like Shamama than in past years. I  intend to submit applications for additional project funding in order to assist Afghan girls in any  way possible so they may keep up their education. I have faith that things will start to shift  gradually. It is better to learn a little than to learn nothing.