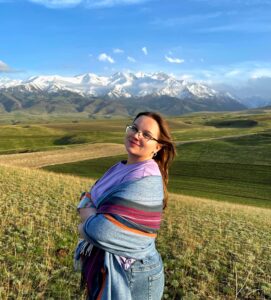 I am Darya Gusmanova, a 21-year-old student from Kazakhstan. I am currently studying at the AUCA, majoring in TV, Cinema, and Media Arts, intending to become a filmmaker. 
     I've been a community-engaged person since I was 15, and attending my first program supported by the American Council. Since that time, I am always trying to find ways to be an active part of the community, implement my projects to bring changes. Nonetheless, I try to combine my life as an activist with my passion for creativity. 
     During my freshman year at the AUCA, I worked on a film that was directed to raise the awareness of stigmatization of mental health in Central Asia. My path to activism comes from the desire to bring together socially important topics through the power of cinema. It made me wonder and research how media influences people, their perception of themselves, and other things. So, for the next project, we decided to tell a story of female artists from Central Asia. It was important to us to bring up their voices, their art, and the path they took to become artists. 
     As for myself, I am a woman in the art field, that wants to make beautiful films to tell more stories, so more voices can be heard. And the story I want to tell the most is one of my own.