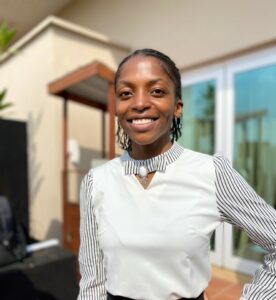 My name is Daisy Kudzai Tsenesa. I come from Zimbabwe. I'm in my first year at Ashesi University as an MCF Scholar. I'm majoring in Electrical and Electronic engineering. I did my high school at USAP Community School in Ruwa, Zimbabwe.
Coming from a community with colossal challenges with electric power, I plan to focus on sustainable electrical power generation and development and channel my newly acquired skills toward designing a creative resolution for this major issue in my home country. 
During my holiday breaks, I go home and teach children in my rural village. My main focus is on inspiring a sense of curiosity in STEM and finding ways to learn and experience science most engagingly and affordably. I find joy in sharing my knowledge and understanding with less privileged people. 
I believe that I have found my voice. I believe in the incredible impact words can make. Therefore, as a poet, I use my poetry as an effective tool to drive change on myriad issues that I care about. But I'm still aiming to improve my writing.